From artisanal springs to pocket springs, these components have played a long-standing role in the production of sleep systems and remain widely appreciated.
Expan knows how important springs can be and contributes to product development via in-depth analysis of materials and the use of property-enhancing production methods.
Hence the introduction of Top Springs, an advanced, customised spring mattress with outstanding potential in terms of support, ergonomics and comfort.
The springs
We started with a selected range of spring system models that exhaust the picture of the main preferences. From the more rigid and uniform support, to a gradual acceptance with differentiated lift through the use of several layers of springs different in thickness of the wire and dimensions.
The proposed models are four, of progressive complexity, selected among the superior quality products for choice of materials, workmanship, capacity for innovation and sustainability of the production chain.
Expan has produced a made-to-measure perimetric box for the four selected models characterised by:
Lateral holes, to ensure good ventilation and therefore optimal hygiene.
Solid side containment buffers in deformation-resistant foam.

Discover the specifications of the boxes for each model of spring mattress
in the product sheets.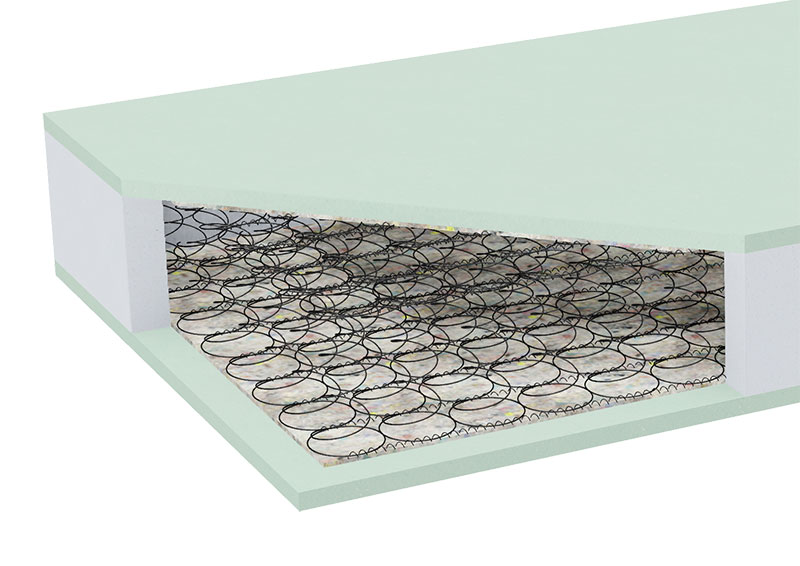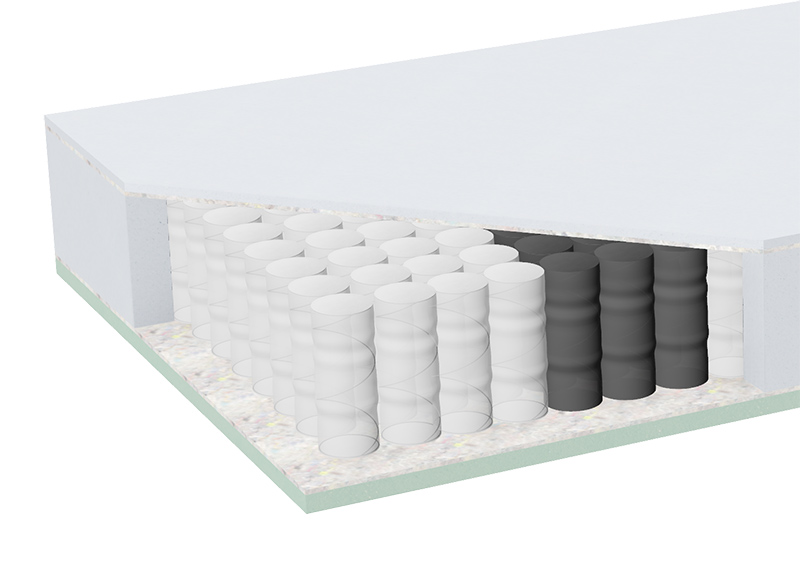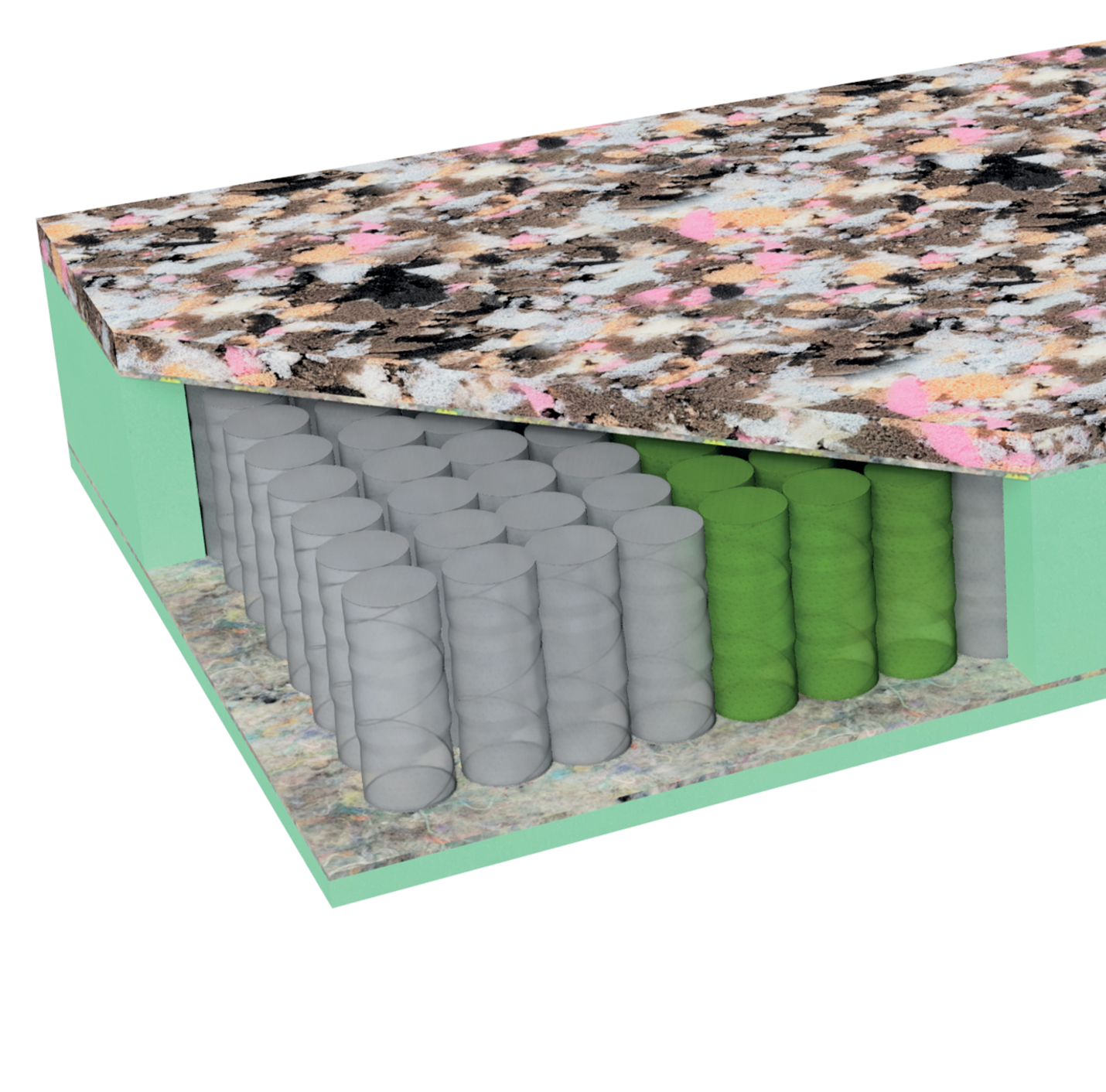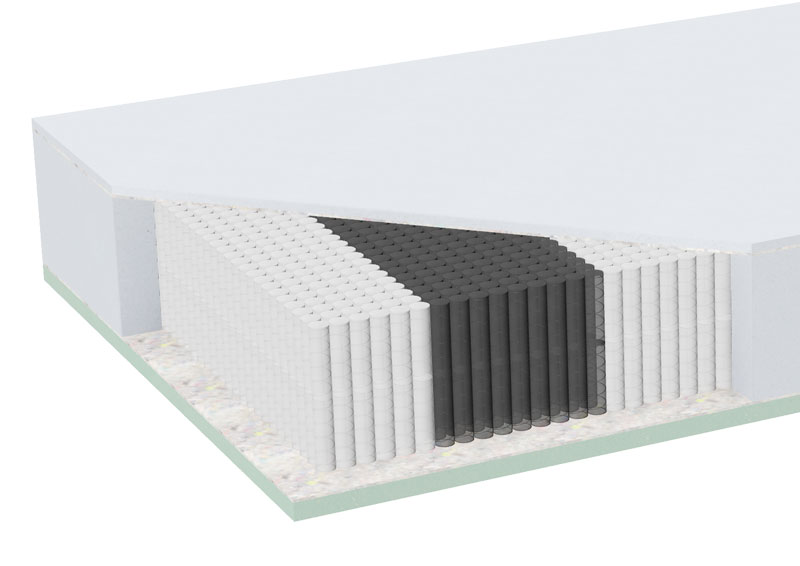 Topper
To bring out the qualities of each spring system and meet the demand for product personalisation, Expan has created a 'topper' line that satisfies a wide range of needs.
The six solutions – which differ in terms of materials and shaping – are applied to each of the four selected support types.

ENGRAVED GRADIENT
For those looking for a fresh and enveloping support, here is the right solution. Crafted from a premium porous, elastic material, this topper offers superior comfort. The feeling of freshness combined with the gradient effect, the gradual change of colour, which reveals its thermoregulating properties, make this material the real protagonist of a special topper with differentiated firmness in 7 zones and the possibility of customizing the groove. PLUS:
7 differentiated zones
Thermoregulating foam with gradual color change
Customizable digging

ENGRAVED BICOLOR
Expan has studied the optimal solution for a soft and fresh support, with the gradual acceptance of the breathable memory breeze and the thermoregulating and antibacterial capacity of silver ions. The topper is worked in 7 different areas to support body pressure and follow the natural curve of the back. PLUS:
7 differentiated zones
Memory with PCM
Customizable digging

CONVOLUTED BICOLOR
With this solution, the massaging effect of the soft memory surface worked in small pyramids is added to the support of the spring. The choice of first-class materials ensures maximum freshness and breathability, as well as the support capacity of 5 different zones to accommodate the correct curve of the back. PLUS:
5 differentiated zones
Massaging effect
Breathable memory

PERFORATED FOAM
Perfect in its apparent simplicity, this solution ensures a pleasant welcome to the body thanks to the use of water-based memory foam. The particular perforation with 7 differentiated zones contributes to the material's ability to adapt to the natural shape of the body and promotes perspiration in contact with the skin. PLUS:
7 differentiated zones
water-based memory
breathable
customizable drilling

MICRO PERFORATED LATEX
For those looking for the support of the spring, but don't want to give up the elasticity of latex, here is the ideal solution without fear of stagnant humidity. The through-hole and carefully distributed perforation of the slab ensures maximum breathability and hygiene of the support layer. PLUS:

TUBOLAR SHAPED
Thanks to the selection of materials that compose it, this solution with 7 differentiated zones guarantees solid support while accompanying the natural position of the body. The tubular shape also ensures maximum breathability and hygiene together with a pleasant massaging effect. Especially suitable for systems with 800 and 1600 springs of which it perfectly follows the design of the structure with differentiated zones. PLUS:
7 differentiated zones
breathable
For further information, please