RESPIRO, the mattress leading new products 2023
Among the new sleeping solutions presented at the last Interzum, our RESPIRO mattress undoubtedly played a starring role, and those who tried it out during our Open Days will surely remember it.
For those who have not yet had this opportunity, and are finding now RESPIRO at the top of our catalogue, the new product deserves an introduction.
Intriguing, science-driven and patented!
At first glance, its design is bound to inspire amazement and curiosity. RESPIRO is the result of an extraordinary collaboration with experienced technicians in the field of health who have shared their knowledge to create an innovative solution with added value for our well-being.
This unique product is a patented ergonomic sleeping system featuring a long central support made of elastic, breathable foam, arranged lengthwise.
The innovative shaping is designed to counteract the common tendency of our everyday postures to close the thorax and stimulate a natural shoulder and pelvis opening movement, thanks to the thrust that RESPIRO's central support exerts along the entire spinal column.
How RESPIRO works
During resting in a supine position (belly up), what appears to all intents and purposes as a "hump" in the centre of RESPIRO allows the ribcage to open up, significantly improving breathing and favouring a rebalancing of the relationships between all the parts involved: heart, lungs, diaphragm, intestine.
Correct breathing also significantly influences the oxygenation of the tissues and therefore the muscles, favouring recovery after physical activity in the case of athletes, thanks also to the passive stretching of the upper and lower limbs induced by the unique RESPIRO curve.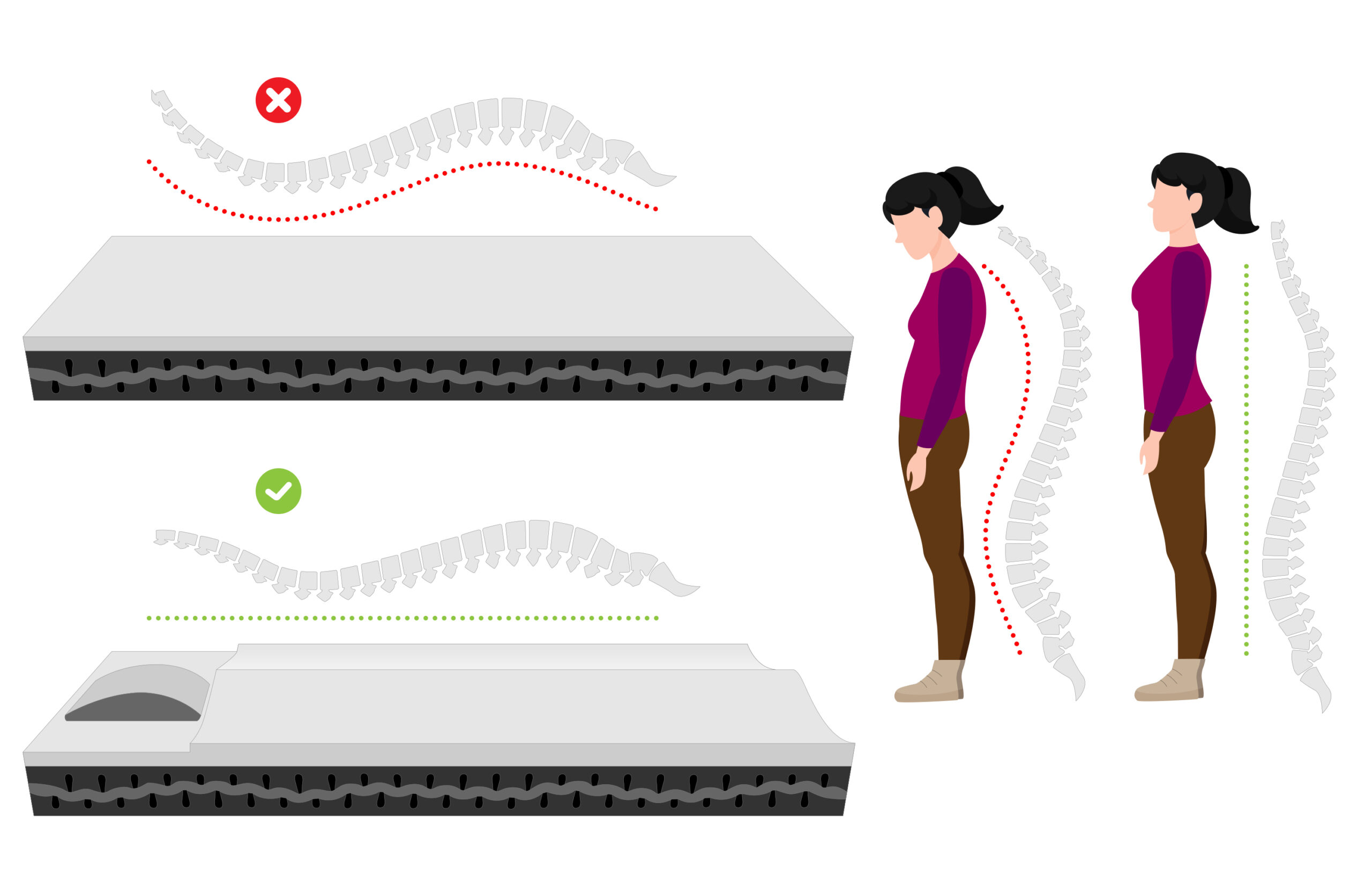 A major health benefit
Careful study of ergonomics has therefore led to the creation of a sleeping system capable of providing a significant benefit to the musculoskeletal health and especially in cases of respiratory problems.
In fact, RESPIRO is recommended to help with asthma, anxiety, nocturnal apnoea and menstrual pain, as well as hernias, protrusions, neck pain, rotator cuff pain, and coxarthrosis.
Without necessarily falling into one of these categories, REAPIRO is indicated for all those who take care of their health and want to maintain a correct posture even while sleeping without further burdening the spinal column and the delicate balance of our body.
Its matching pillow also contributes to the benefits of the Respiro mattress, thanks to its central rise, which, according to the same logic, lifts the shoulders by favouring support on the shoulder blades without putting pressure on the neck vertebrae.
To better understand the full benefit of our flagship product, just try it for yourself!
We look forward to seeing you in ExLab together with our product experts to experience the beneficial effect of this new value-added sleeping system for yourself.
Per approfondire e richiedere una consulenza